How it works
QR Code T-shirts with Zazzle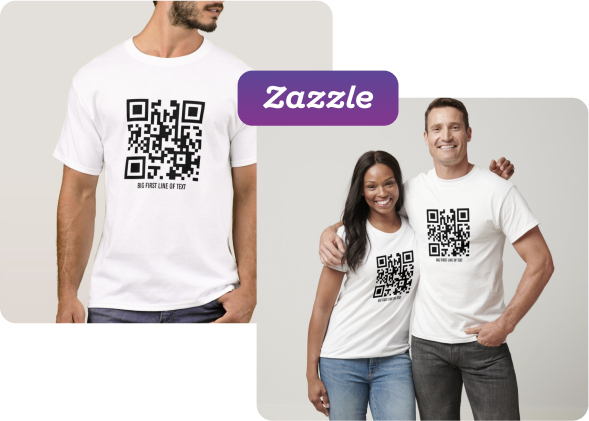 We've partnered with Zazzle, a great US-based print-on-demand website (that delivers world-wide) to be able to offer you custom QR-Code t-shirts and polo shirts. Here is how it works:
01
Generate your code
Generate your code on our website and then click on the "Make A Shirt" icon.
02
Choose your shirt style
Choose the basic shirt style from those shown on the next page, and then click on the "Buy It" link.
03
Transfer to the Zazzle shop
You and your QR Code are then transferred to our shop on the Zazzle website where the QR Code is automatically put onto your chosen shirt type.
04
Design your shirt
Fine tune your selection by shirt type, colour, size and code postioning. At this stage you can also modify the artwork on the shirt itself adding text or other images to the design.
05
Payment
Arrange for payment and shipment directly with Zazzle and you will have a one-of-a-kind custom shirt, with your chosen data encoded in the QR Code printed on it, delivered to you in a matter of a few short days.
Give it a try!
The only way we could make this any easier for you is by offering to wear the shirt for you!
Generate your QR code now