QR Codes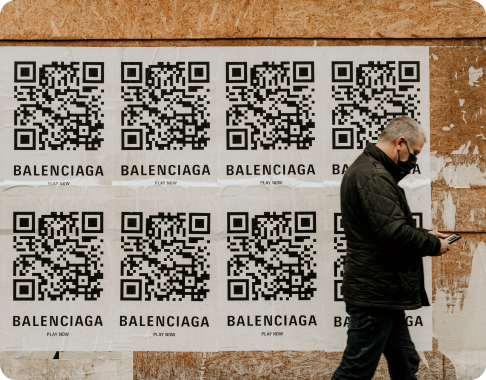 A QR Code (it stands for "Quick Response") is a mobile phone readable bar code that can store website URL's, plain text, phone numbers, email addresses and pretty much any other alphanumeric data.
The QR Stuff QR Code Generator allows you to create either dynamic or static QR codes and download them for immediate use
Storing up to 4296 characters they are internationally standardised under ISO 18004, so a QR code is a QR code all over the world - they've been big in Japan forever, broke into Europe and the UK a few years back, and are now popular in North America.
Think "print-based hypertext links" and you'll get the idea.
Click here for more information about QR codes or visit the QRStuff QR Code Blog for QR code articles, tips and tricks.
Scan QR Codes
The QR Stuff QR Code Scanner allows users to scan QR codes simply and easily from within your browser with no need to download and install a QR code scanning app or QR code reader software. Simply go to Scan from the menu bar at the top of this page and after granting access to your device camera, you're ready to scan a QR code using your laptop or mobile device.*
Create Free QR Codes
Our QR Code Generator is FREE for anyone to use with no sign-up or account required - fully functional, 100% ad-free, permanent QR codes that don't expire. Generate as many QR codes as you need for FREE with no restrictions on commercial use. No time limits, just free QR codes you can use with confidence straight away.
Dynamic QR Code created without a subscription are subject to 50 scans per month per QR Code.
23 free qr code data types
Free users can access 23 of our 30 QR code data types (PDF, Image and Attendance Tracking require a paid subscription). Websites, YouTube, Google Maps? Meh! Everyone gives you those, but our free users can create fully functional non-expiring QR codes for App Store Downloads, Dropbox file sharing, SMS and email messages, Bitcoin, Paypal and more. And you can create as many of them as you like.
Download, Print Or Email Your QR Codes
Once you've created your QR Codes you can download them as PNG image files, print them as sheets of stickers, or email them to yourself or someone else. Just choose the Output Type you need.
100% Ad Free QR Codes
Our QR codes are guaranteed 100% ad-free, even for free users, so you can get on with promoting your product without someone else's brand getting in the way. By the way, if you do see an ad after scanning one of our QR codes, the scanning app that you're using put it there.
Custom QR Code Printed Products
Generate your own QR Code and then you and your code are sent to the Zazzle print-on-demand website to add your QR code to a t-shirt, a coffee cup, a hat, business cards, stickers, and more - all ready for immediate purchase, printing and delivery direct to your door.